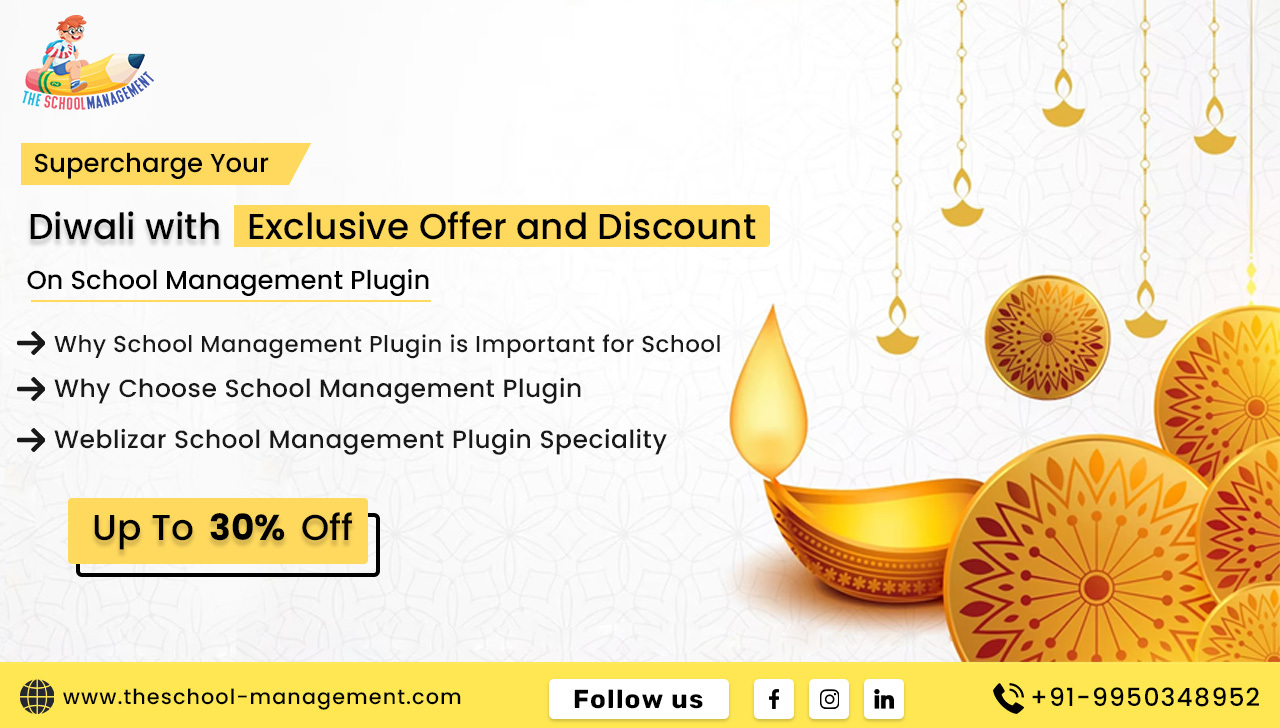 Supercharge Your Diwali with Exclusive Offer and Discount on School Management Plugin
In this festive season Diwali, the festival of lights is also coming and we are all excited about everything this festival brings with it. We are so happy to bring our latest offer during this Diwali , we bring exciting treats for educational institutions so that our educational institutions reach up to the exclusive heights. Elevate educational institutions with our School Management Plugin wait We offer a 30% discount on our advanced School Management Plugin. Because we know managing educational institution comes with many challenges and our plugin makes it easy for educational institutions to become efficient , more organized moreover, just think about it a educational institution where every work is organized, systematically going and communication also seamless with Weblizar School Management Plugin you can get all in one with advanced learning experience.
So hurry up, don't miss this opportunity to power up educational institutions with Weblizar School Management Plugin.We're providing an amazing 30% discount on our premium plugin to add a glitter to your festivities!
Weblizar will explore why the school management system is important for educational institutions and how this plugin supercharge educational institutions.
Why School Management Plugin is Important for School
As the world is becoming more digital with time, the education model is transforming at a fast pace. We are constantly seeking paperless, simpler and faster alternatives than our traditional methods which are time consuming as well as require a lot of paperworks and have a chance to man made errors and education is no exception. Schools are also facing several difficulties to conduct traditional methods of functioning, so school management plugins have come out as an effective tool for change in educational institutions. This plugin manages complex school management works. Basically this plugin makes educational institutions a centralized platform because without this plugin school management faces difficulty in collaborating with teachers, staff members. This plugin made collaboration so easy.
Over the years education sectors are constantly working on upgrading their systems as well as in this digital era where the education department started using school management plugin, basically school management plugin is a software which can manage school management works very skillfully and easily and hassle free.
Educational institutions come under such sectors where the mass management load is too high and these sectors need special tools which easily can manage loads of students data, teachers data, staff information, rolls, schedule exams, generate assessment and many more.
Weblizar School Management Plugin Speciality
Weblizar School Management Plugin increases productivity, and their unique features include active communication and engagement, easy access to study materials, now by adding Weblizar School Management Plugin educational institutions can easily provide access to study materials, and generate assessment, quick analyzing of tests. This WordPress plugin is built in a way which operates and automates tasks in a more structured and systematic way. This plugin reduces the manual error and saves more time and produces more productive tasks. It is a smart plugin that keeps everyone informed and develops an interactive atmosphere that promotes student achievement. This School Management plugin can handle hectic tasks such as managing admission to attendance. Also managing grades and exams and preparing schedules for exams is a hard administrative task and this plugin can easily manage exams and grades.
This school management plugin guides students equally and can track student's performance. As this management software is an important addition for schools to improve administrative processes, fosters individual learning. This software is an important need for the educational sector as well as students. This kind of web application not only accumulates, arranges and evaluates educational sectors such as schools information, knowledge but also helps to upgrade technical knowledge as well as expertise of technological areas.
This plugin is also equipped with an admission management feature so it will be very helpful for students to get proper admission information, along with required documents properly mentioned in that admission management area. Parents and students do not have to wait for long hours and institutions can easily manage student enrollment processes online and administrators do not have to collect student's data manually with this admission management feature administrators can easily handle student's data collection procedures. Also students can check merit lists easily by using this software. This plugin can create and modify admission forms, stages of admission to manage data systematically.
This plugin has an in-built project management feature that means using Weblizar school management system, Students unit management set up very easily. This plugin helps to manage various unit set up such as Role Management, Permit management. With Weblizar, every educational dashboard has specified access. That means students dashboard : where students can login but they can not log in to teachers dashboards. Every dashboard has permit access to their specified users. For instance, each and every student has their own separate dashboard with Weblizar School Management Plugin so one student can not get access to any other students dashboard. Which maintains a student management unit very specific and manageable. It also helps to manage a very large number of students. It is very handy and in a simple way. Also this plugin helps to clear up any kind of doubts, queries of students and provide immediate solutions.
Also this software has an instant notification feature, so whenever teachers give tasks or assignments or homework to students they can get notified about it also they are aware of the submission deadline. Similarly parents also get notified about any school events, parents teacher meetings. Also parents can connect with teachers to discuss the child's development process. Also by using this software, teachers can easily give any feedback to their students, and create a more supportive learning atmosphere for students.
Also, this plugin made payment methods easier. Students can easily make payment by using this plugin. This plugin has various modes of payment gateway such as: Paypal, UPI, Razorpay, PayTM, UPI Transfer, Bank Transfer, Paystack, Stripe. Also have aSMS Service provider feature: Twilio, MsgClub, SMS Striker, many more.
Why Choose School Management Plugin
This plugin is an advanced management software which is an essential element for schools, online education as well as smart classrooms. With this plugin schools can easily manage their hectic operation.
Streamline Information
Managing school information is not an easy task; it includes class related information, finance related information, staff management, data management and more. Keeping information of attendance is an important task and because it includes monthly attendance, weekly attendance this plugin easily keeps record of attendance digitally. Also this plugin has a portfolio generation feature by using this feature teachers can easily record student's observations. Also its event notification feature notifies upcoming events to staff members and parents.
This plugin also comes with automated fee reminders which means before payment date parents get notification automatically through this plugin. This plugin also made transactions easy and secure because this plugin sent automatic receipts for transactions and digitally recorded all transaction details and information and also generated regular financial records of school. It kept information about why and how payment was being paid in different sections of school regularly. Moreover this plugin has a parent portal section where parents can login and view their child's progress in terms of exams, students, regular activities and more.
Increased Convenience
When schools are using this plugin it helps schools in many ways one of such features is well-versed convenience. To have quick access to data in educational institutions is important but using pen paper method just pushed the whole convenience process as well as it time consuming and there are a chance that some important data can not be found when it necessary or lost but this plugin made this issue very easy and systematic because using this plugin trasphered all data from paper format to digital format and this convenient form it much easier for school management to access data and teachers, parents also quickly accessing data. This plugin is also very easy to use and easy to install and convenient to use.
Must Know :  Premium WordPress Themes
Seamless Communication
This plugin make connection among students, teachers and parents earlier it is difficult to flow seamless communication between teachers, parents and students, communication is an important key among teachers, student and parents thi plugin made interaction very easy ad effortlessly and quickly share any important notification, daily updates, to parents also teachers moreover increase transparency.
Improve Learning Experience
This plugin made the learning system in educational institutions exciting and knowledgeable and made traditional classrooms into digital knowledge hubs. By using this plugin teachers can easily give assignments to students also this plugin equipped with progress tracking feature so that teachers and parents can watch out their students, child's progress in study and when students using this plugin this plugin made their study session more motivated and engaged overall students get amazing learning experience by using this plugin.
By using this plugin administrators can easily send any important notification through sms, mail and keep everyone informed about it easily. With this plugin administrators can also send newsletters, upcoming events, parent-teacher meetings, or upcoming exam date announcements to their students and parents easily and effectively.
Weblizar School Management Plugin administrator can easily generate eLearning management, this plugin also offers an android mobile app to allow students and parents to login and manage homework, study material. Class time table, exam result, notification of events, fee invoice and many more, payment history, book issue, study material, admit card and students get to learn through subject wise video classes and many more.
Weblizar Exclusive 30% Offer
We hope you understood our School Management Plugin benefits and how this plugin advanced your educational institution management. To get this offer you have to visit our website https://weblizar.com/ to explore the features and features of our School Management Plugin. To get this exciting offer you have to apply our promo code to unlock this offer. Put code to the checkout process and ready to get a discount. After activated our School Management Plugin enjoys an amazing, seamless experience of our plugin. We also offer demo features and our advanced, dedicated 24 hour team will guide you all along the way of this plugin setup process. This offer is valid until Diwali.Make this Diwali memorable for your institution by embracing efficiency, productivity, and seamless communication. Don't miss this opportunity to transform your educational institution into the next level.
Must Know : Premium WordPress Plugins
For any inquiries, please feel free to contact us through our mail address Lizarweb@gmail.com our office is open Mon to Sat from 8.00 am to 8.00pm IST. We are here to assist you in making this Diwali truly special for your school. Weblizar wishing you a joyful and happy Diwalu with success, prosperity and transforming your educational institution with our School Management Plugin.